NUSIP 2023 Special Lecture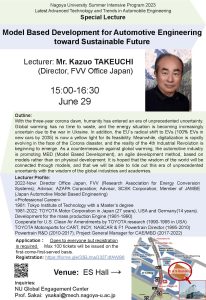 Title: Model Based Development for Automotive Engineering toward Sustainable Future
Date and Time: 15:00-16:30 June 29
Venue: ES Hall
Lecturer: Mr. Kazuo TAKEUCHI (Director, FVV Office Japan)
Outline:
With the three-year corona dawn, humanity has entered an era of unprecedented uncertainty. Global warming has no time to waste, and the energy situation is becoming increasingly uncertain due to the war in Ukraine. In addition, the EU's radical shift to EVs (100% EVs in new cars by 2035) is now a yellow light for its feasibility. Meanwhile, digitalization is rapidly evolving in the face of the Corona disaster, and the reality of the 4th Industrial Revolution is beginning to emerge. As a countermeasure against global warming, the automotive industry is promoting MBD (Model Based Development), an agile development method, based on models rather than on physical development. It is hoped that the wisdom of the world will be connected through models, and that we will be able to ride out this era of unprecedented uncertainty with the wisdom of the global industries and academies.
Lecturer Profile:
2022-Now: Director Office Japan, FVV (Research Association for Energy Conversion Systems); Advisor, AZAPA Corporation; Advisor, SCSK Corporation; Member of JAMBE (Japan Automotive Model Based Engineering)
=Professional Career=
1981: Tokyo Institute of Technology with a Master's degree
1981-2022: TOYOTA Motor Corporation in Japan (27 years), USA and Germany(14 years).
Development for the mass production Engine (1981-1990)
Cooperate for U.S. Clean Air Amendments by TOYOTA research (1990-1995 in USA)
TOYOTA Motorsports for CART, INDY, NASCAR & F1 Powertrain Director (1995-2010)
Powertrain R&D (2010-2017), Project General Manager for CAE/MBD (2017-2022)
Application:
Open to everyone but registration is required.
Max 100 tickets will be issued on the first-come-first-served basis.
Registration:
https://forms.gle/33BJmaG33TdfAWi96
Inquiries:
NU Global Engagement Center Prof. Sakai, Email: ysakai(at)mech.nagoya-u.ac.jp